If you're having issues with air circulation or temperature control in your space, it might all be due to your HVAC system. Over time this unit can get clogged up with a lot of dust, debris and pathogens that it then spreads around your home, causing damage to your property and health problems to you and your family. Thankfully though, our team offers quick and reliable HVAC repair service - our experts are skilled in a variety of repairs, ranging from insulation to temperature control issues.
Replace Your Dirty Or Faulty Filters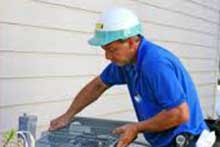 The air filter is the first of several devices within the air ventilating system designed to dry the air and get rid of oil, vapors, filth and other pollutants. Over time filters may get too dirty or even malfunction. A malfunctioning filter fails to clean the air, and a dirty one may circulate the collected particles back through the space if not replaced or cleaned. There is a wide range of choice when it comes to these products and it is highly recommended to talk to a professional before deciding on one. Call our experts to make sure your filters are clean and that they provide you with high-quality air circulation.
Dirty Ducts and Filters? No Problem!
To ensure a safe, healthy, and comfortable environment, the air quality, circulation, and temperature in your space need to be within appropriate ranges. However, over time, your air ducts collect unwanted particles of dust, dirt, and even harmful fungi such as mold that need to be cleaned up and properly sanitized. As ensuring your ductwork is pathogen free is a process a little more complicated than the average homeowner can perform, it is highly recommended to leave this up to the technicians. Our team will run all the necessary maintenance tests to keep your HVAC system running efficiently for as long as possible, for an affordable price.
Air Quality Testing
Every so often, you may need to run tests to assess the quality of air that circulates in your home. This is a procedure that should not be left out, as it may be the answer to the increased coughing and sneezing that you and your family have been experiencing lately when indoors. An air quality testing will reveal what really resides in your air and if there is indeed presence of dust, mold and other harmful particles. This will also help determine what is the action process to follow from there onwards. Don't let routine air quality testing take up your valuable time, call our experts to evaluate it for you. They will advise on possible adjustments that can improve airflow, balance distribution and ensure the highest air quality for your space.
Call Our Experts Today!
If your HVAC system needs cleaning or repair service, call our dedicated team of specialists today and schedule your appointment with us!